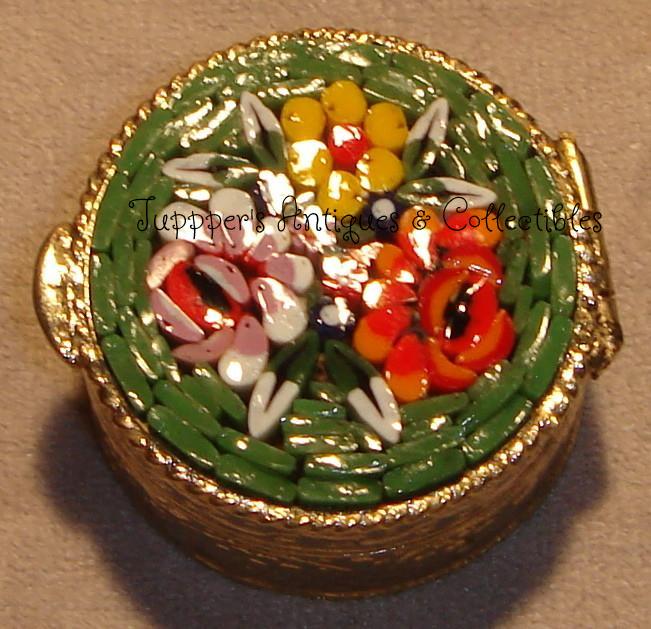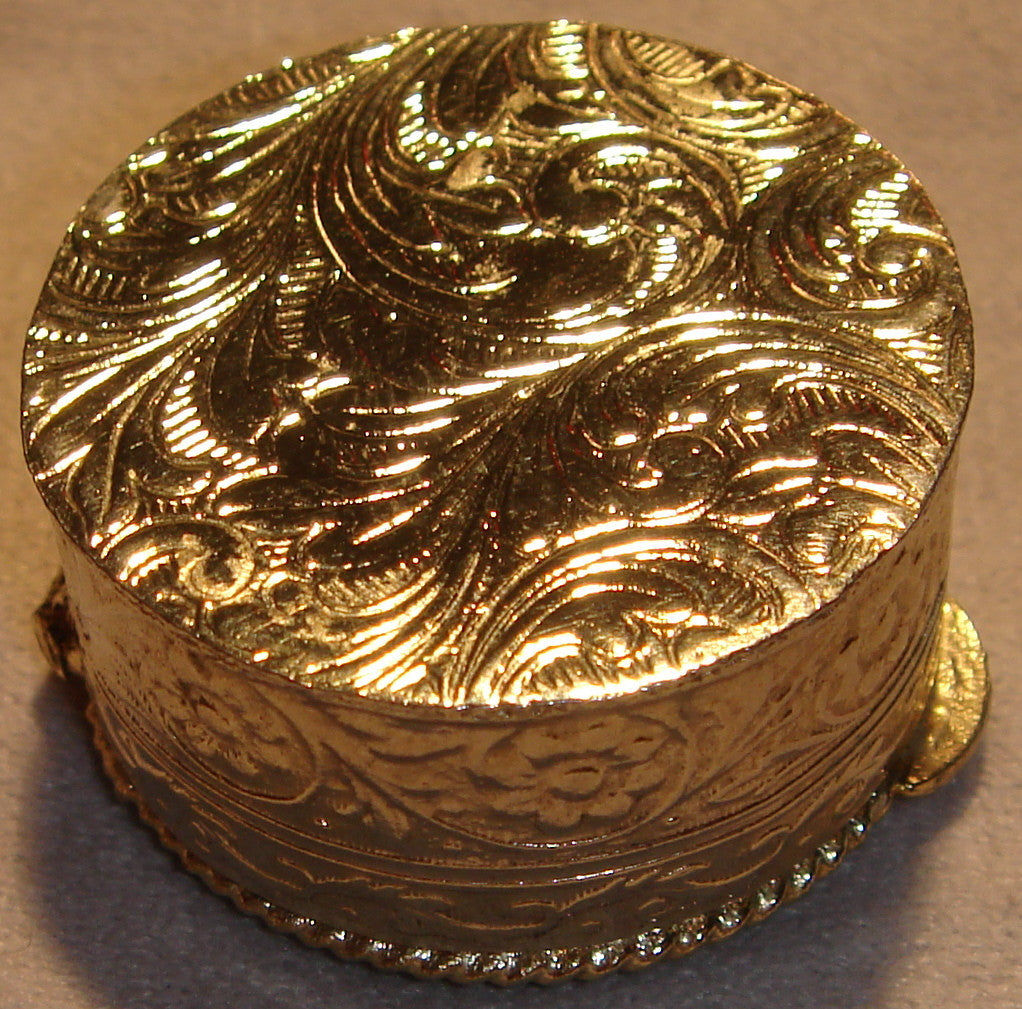 Micro Mosaic Embossed Silver tone Pill/Snuff Box
1.25" W .75" H.
Green Bordered Multi-Coloured Millifiori Micro Mosaic Pill/Snuff Box from Italy.
Embossed white metal with the original liner inside...
Slight tarnish around the hinges was removed using a silver cleaner.
-You can find examples of finely crafted micro mosaics dating back to the 3rd century BC, although the height of their popularity was during the mid 19th century to mid 20th century. Even as early as the beginning of the 18th century, micro mosaics were sold to visitors in Italy, and this trend continues today...
In the early 18th century, Alessio Mattioli experimented on colored glass paste and developed a high percentage of coloring agents. He made what were called " Smalti Filati". Depending on the shade of color to be obtained, bits of different his master tints were mixed together and then melted over an open flame. The molten mass was then "spun" or drawn by means of tweezers into threads of the desired thickness. The "smalti filati" technique made it possible for artisans to fashion pieces on very small scale, and eventually even to produce actual "miniature mosaics", with glass tiles called "tesserae" which were less than 1 mm thick, and which gained widespread popularity in the first half of 18th century.
There are several types of Italian mosaics: Venetian, Roman and Florentine. In Venetian designs, the artisans used a wide variety of shapes in the glass tiles to form the design. In the Roman design very tiny pieces of colored glass, call tesserae,were pieced together to form a picture, and were held in place with cement in a glass or stone background. In the Florentine design pietra dura (hard stone) were cut, shaped and fitted together, somewhat like a jigsaw puzzle to produce a picture. These normally used a bed of black marble as the foundation so they have a black background. Florentine designs normally used larger tiles.
 Hard stones, such as chalcedony, agate, jasper, and lapis lazuli, were used in flat slices in the type of mosaic produced in Florence during the Renaissance period. This type of jewelry production continues today, and is sometimes applied to an example of the work. Generally the background is a darker color to offset the object being depicted.
To clean - Using a soft toothbrush or make up brush...dip in warm water with a couple of drops of dish washing liquid, scrub the tiles vigorously for about 10 seconds. The object can then be rinsed for a few seconds with warm water to remove the suds. After cleaning, wipe the tiles dry with a soft cloth, such as a piece of a cotton T shirt.
The cement used to make micro mosaic vintage jewelry should make the piece impervious to moisture, but care must be used, since the cement can be softened with water in some cases, which will result in some of the tiles coming loose. For this reason, the piece should never be soaked in water. Be sure not to allow the water to stay in contact for too long and don't allow it to settle into the old cement or putty used to hold the tiles.
Full courtesy and credit goes to ebay http://reviews.ebay.com/Micro-Mosaic-amp-Pietra-Dura-Vintage-Jewelry_W0QQugidZ10000000003872252