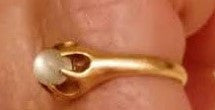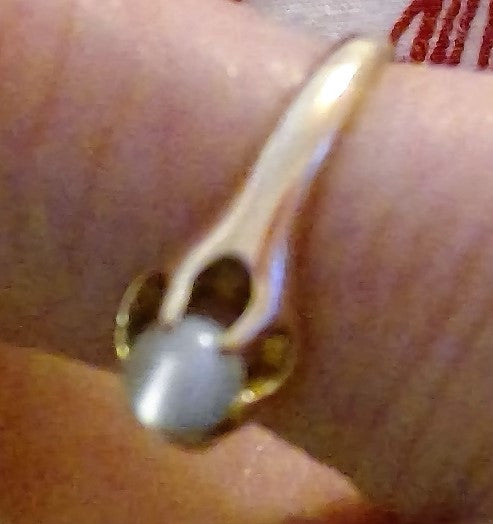 Victorian Silver Moonstone natural Cat's Eye cabochon solitaire 10 kt. ring.
Perfect in it's simplicity¦
Circa 1880-1890. 10k. tested for purity.
Natural cat's eye 4mm silver moonstone cabochon solitaire.
The stone is translucent.
Ring size - 4.5 1.78 grams
Belcher setting - Although the dates are Victorian, this is a uniquely American style, named after American designer Thomas Belcher. The defining feature is how the stone is secured into the ring using prongs or claws that are cut into the shank of the ring, so that the stone does not extend above the circumference of the shank. A secondary characteristic is that most Belcher-style mountings have a round dip between the prongs at their base.
Moonstone is the best-known gemstone quality potassium feldspar. Its name is owed to the almost magical, bluish-white shimmer that resembles that of the moon at night. The shimmer is the result of alternating layers of orthoclase and albite which causes interference of light as it enters the stone. The light is reflected back and scattered equally, resulting in a fantastic Schiller effect. The resulting sheen most commonly occurs in white, blue or blue-orange colour and it appears with the cat's eye reflection. The combination of adularescence and chatoyancy in a single stone is exceptionally rare. Top quality specimens can exhibit three-dimensional depth of color due to moonstones remarkable level of adularescence.
The ancient Greeks called the gem Aphroselene in honour of the goddesses Aphrodite and Selene. The Romans believed the Moonstone was actually formed from the moonbeam and that it displays the image of Diana, the Moon Goddess that bestows love, prosperity, victory and wisdom upon the possessor. In ancient Asia, it was believed the gem was a solid ray of moonlight, filled with good spirits. Revered in India as a symbol of the third eye. During the middle ages Europeans gazed into moonstone to invoke prophetic dreams. Moonstone has also been associated with the Archangel Haniel, whose name means Glory of God and Grace of God..